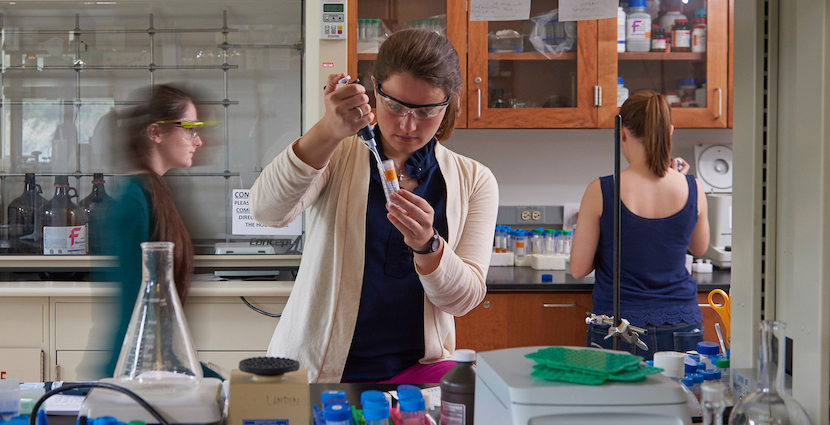 "We have to take more risks. To me, risk is acting on imagination. Imagination is creative problem solving – the ability to think ahead to a new future and then take the action to make it happen. Allow yourself room to fail. You have to make mistakes, struggle to iterate, and to figure out a way through the ambiguity. If failure is not an option, then neither is success."
Beth Comstock '82
Overview
By providing students opportunities to engage in primary research and explore real-world issues, W&M teaches students to think creatively and critically and to analyze and solve complex problems. The ability to take risks, navigate ambiguity, adapt to change and find imaginative solutions to problems is cultivated through research opportunities that allow students to innovate around emerging problems. Close faculty and student interactions outside of the classroom create unique educational experiences that inspire forward thinking and stimulate curiosity.
Opportunities for Investment
Lab support As W&M strives to recruit and retain talented faculty, it needs to have resources to support and advance their research endeavors. Start-up funds, technical staff, graduate fellowships, equipment and state-of-the art technology make the difference in our ability to hire and support top scholars.
Travel stipends To take advantage of research opportunities beyond campus, students and faculty require funding that allows them to conduct field work, attend conferences and witness first-hand the challenges and impact their work has on the real world. Resources for travel, lodging, registration expenses and experiential learning opportunities make it possible to understand how the world is changing and to change it for the better.
Pride Points
More than 85 percent of undergraduates report having a faculty-mentored research experience at W&M.
Twenty-five percent of all W&M students major in science or math, which is double the national average.
W&M is ranked fourth highest among all public universities in the percentage of students who go on to earn science Ph.D.s.
Over the last several years, eight undergraduate students (the most in Virginia) were named recipients of the Goldwater Scholarship, the prestigious national STEM award.
Impact
W&M has raised more than $2 million toward its $4 million goal to fund research equipment.
73 new pieces of state-of-the-art equipment have been purchased — a majority of which came from the Cabell Challenge.
W&M has raised more than $346 million toward its engaged learning goal.
Twenty-one endowed and expendable funds for engaged learning have been established, allowing students and faculty to participate in research.
 Mark L. Begly, 

Associate Vice President for Development and Chief Development Officer

 757-221-1370