Professional Growth and Experiential Learning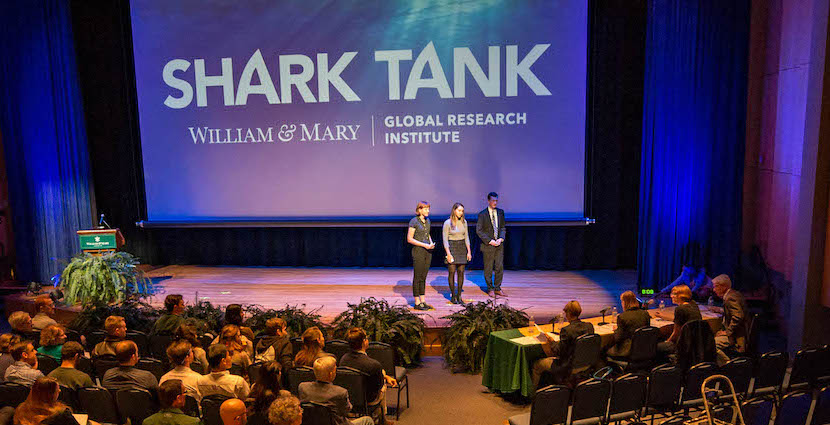 It was my experience at the two-day Women's Leadership Summit & Stock Pitch Competition last year as a history major that sparked my passion for finance. By watching 16 teams from across the country pitch stocks, speaking with alumni and professionals working in everything from investment management to consulting, and participating in the panel sessions on different firms, I discovered a whole world of possibilities in finance that I didn't know existed."
Olivia Vande Woude '20
Overview
Students at W&M are actively involved in research and other scholarly endeavors at a level that is uncommon in higher education. Allowing them to engage fully in that experience by presenting their work at conferences, traveling to advance and showcase their research and giving them broader exposure to other experts in their field are all important components of their professional and personal development. What's more, robust study abroad and international educational opportunities are critical to helping students learn how to communicate effectively, create connections and expand cultural fluency.
Opportunities for Investment
Internships and Externships Internships and externships provide invaluable experiences for students as they explore new career paths, develop a strong professional network and a deeper understanding of the fields they are considering.
Career Services Programming Students can learn and hear first-hand from experts across the private and public sectors and further grasp evolving careers that would enable them to flourish both professionally and personally.
Study Abroad Robust study abroad and international educational opportunities are critical to helping students learn how to communicate effectively, create connections and expand cultural fluency.
Student Opportunity Funds Resources that prepare students to excel in a professional workplace — including leadership training with experts in cutting edge fields, career development immersion trips to New York City or Washington, D.C., and opportunities to present work and synthesize lessons learned — are vital to a robust educational experience.
Service Opportunities Service projects that support students' development as active and educated citizens promote positive and community-driven change. W&M relies on private resources to enable students to partner with local nonprofit agencies, schools and community organizations across the U.S. and world.
Pride Points
For the second year in a row, W&M has the highest percentage of undergraduates participating in study-abroad programs compared to any other public university in the U.S. This is the seventh time in the last 10 years that the university has held this position.
William & Mary has been named a top producer of Peace Corps volunteers for 11th consecutive year and has been ranked No. 7 for most engaged students in community service.
William & Mary is ranked No. 6 for best schools for internships by Princeton Review.
Career centers on campus are preparing students to be successful in a rapidly evolving world, pairing students with mentors, prepping them for interviews and bolstering professional networking opportunities and connecting them with jobs. Current data suggests that William & Mary students are:

Working in at least 58 different industries, with the top industries in the following fields: consulting, health care, education, nonprofits, government, law, financial services, accounting, computers, high tech and international affairs.
Enrolled in 132 distinct graduate schools as degree-seeking students and pursuing 26 different graduate degrees.
Sixty-one percent reported participating in at least one internship, externship or research project.
Impact
Fifty percent of undergraduates participated in study-abroad and international research opportunities at the beginning of the campaign. Today that number has increased to nearly 60 percent.
More than $4.3 million has been raised for the Office of Career Development & Professional Engagement.
Bolstered the Funding for Unpaid Summer Externship (FUSE) program.
Providing funding for the annual Women's Stock Pitch and Leadership Summit at the business school and the Shark Tank competition at the Global Research Institute.
Grace Hopper Celebration for Women in Computer Science — Thanks in large part to private support from the campaign, a group of women students now regularly travel with their professor to this national conference, designed specifically for women who want to enter the growing field of computer science.

To ensure great minds excel in the STEM fields, it is important for students to have opportunities to network, job hunt and hone their interviewing skills. For this to happen, we rely almost exclusively on private funding so students can attend such conferences.
 Mark L. Begly, 

Associate Vice President for Development and Chief Development Officer

 757-221-1370