Join us on Nov. 28 to celebrate this global generosity movement and an extraordinary day of support from the William & Mary community.
This year, donors can double their impact on the university.
Any gift made online on Giving Tuesday will be matched 1:1 (up to $500) with a gift to the Fund for William & Mary.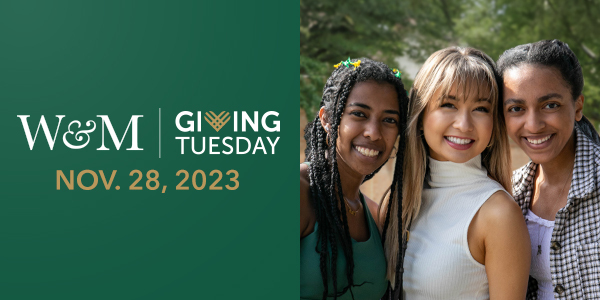 Double Your Impact!
Your gift to any area of the university will be matched with a gift of the equal amount to the Fund for William & Mary. That means a $100 gift to any area of W&M would automatically be matched with $100 for the Fund for W&M. You could support the:
Fund for William & Mary – Provides flexible and dependable funds to respond quickly and nimbly to pressing needs and opportunities.
Athletics Impact Fund – Helps W&M Athletics to reach the All In campaign goals and boost support for all our teams.
Career Center Student Internship Fund – Supports W&M students in building career-ready skills.
Scholarships Impact Fund – Makes a difference for students today and all gifts will be matched 1:1 by a fellow William & Mary family up to $100,000.
Diversity & Inclusion Fund – Helps create a welcoming and caring community through immediate funding for key diversity and inclusion initiatives and programs.
Or any other area you care most about at W&M.
Support William & Mary
Your support fuels scholarships, empowers innovation and strengthens our commitment to excellence in education. Every gift, no matter the size, makes a difference. Last fiscal year, gifts of $100 or less added up to $1.3 million. This was part of the more than $70 million raised for areas across campus, and the powerful impact of this community's support for the people, places and programs at the university.
Giving Tuesday is a global movement that celebrates the spirit of generosity and giving. This annual event takes place on the Tuesday following Thanksgiving and underscores the collective power of individuals, communities and organizations coming together to make a positive impact in the world. Since its inception in 2012, Giving Tuesday has inspired countless acts of kindness, millions of donations and collaborations that have made a profound difference in communities around the globe.