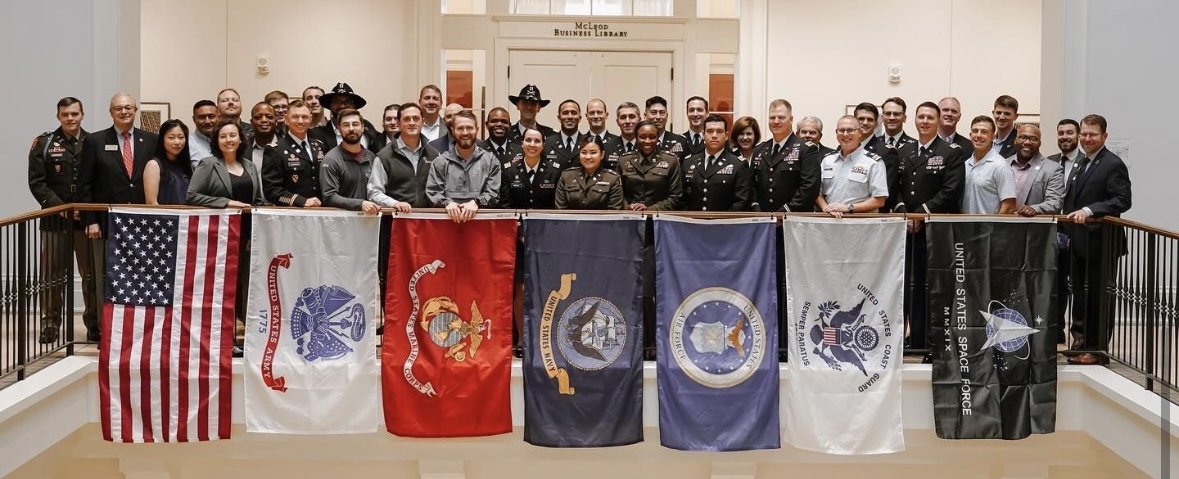 "As Americans, I believe that we have no greater responsibility than to take care of those who serve and protect us, as well as their families. William & Mary, as it always has, is stepping up to provide services where they are needed most."
Robert M. Gates ′65, L.H.D. ′98, William & Mary Chancellor
A passion for service and leadership has been a hallmark of William & Mary since its founding. The first American chancellor was former President and General George Washington, and the current chancellor is former Secretary of Defense Robert Gates ′65, L.H.D. ′98. William & Mary's one-of-a-kind tradition of serving the country continues with the goals set forth in Vision 2026. By educating for impact, W&M prepares students to address global challenges and to understand that service matters and that our country needs leaders who think boldly. Today W&M welcomes active-duty military and veteran students in undergraduate, graduate and transition certificate programs as part of the integrated campus community.
In 2020, a $10 million gift from an anonymous alumna during the For the Bold campaign allowed William & Mary to launch W&M Veteran-to-Executive Transition (VET), a new program designed to leverage resources and expertise across the university to support and empower military veterans in their successful transition into high-level civilian management positions. Under the guidance of the Special Assistant to the President for Military and Veteran Affairs Kathleen T. Jabs, this gift is also helping to sustain the Office of Student Veteran Engagement, where student veterans have a one-stop resource for services across campus; the Whole of Government Center of Excellence, which provides training and leader development to military and public policy professionals; and the Raymond A. Mason School of Business's Center for Military Transition, which helps veterans transition into and succeed in high-level civilian management positions. These initiatives join the Center for Mindfulness & Authentic Excellence (CMAX), the  Lewis B. Puller Jr. Veterans Benefits Clinic, where law students assist veterans in processing benefit claims; the military and veterans counseling program in the School of Education; as well as scholarships and grants for student veterans.
The university offers robust programs that celebrate the service of the nation's veterans and their families. These include annual events hosted by W&M VET and the Association of 1775, such as the annual Mess Hall Breakfast at Homecoming & Reunion Weekend; the Veterans Day ceremony with the Student Veterans of W&M and ROTC; and Green Zone Training, which offers faculty and staff insight into the experiences of military and veteran students on campus directly from the students themselves.
William & Mary's programs have been created to fit the unique needs of veterans, active-duty military, and interagency professionals. Your support will ensure that our veterans join the ranks of our distinguished alumni, thriving at William & Mary and throughout life.
Giving Opportunities
Military and Veteran Affairs Fund




Provides support for campus-wide military and student veterans initiatives.

Student Veteran Engagement Fund
Provides support for the most pressing needs of the Office of Student Veteran Engagement, a program that will enhance the academic, career, and personal success of student veterans at William & Mary.
Flourishing Through Life Transitions Fund
Supports a certificate program for veterans and members of the intelligence community to transition to high-level civilian management positions, while flourishing in their careers and personal lives.
Association of 1775 Veteran Students Opportunities Fund
Provides support for experiential learning initiatives and opportunities for student veterans, including but not limited to funding for attending conferences, participating in internships, etc.
Puller Veterans Benefit Clinic
Supports veterans legal rights and veterans seeking legal aid.
Patriot's Dream Veterans Scholarship Fund
Provides scholarship support for veteran undergraduate students enrolled at the university with a preference to juniors and seniors.
Troops to Teachers
Supporting the Troops to Teachers Virginia Center to help military service members who want to become teachers.
Veterans Family Support Services
Supports training and counseling services through the New Horizons Family Counseling Center at the School of Education for veterans and their families.
Links
 Angela Bartee, 

Executive Director of Development for Scholarships & Student Affairs

 757-221-7879
 Suzie Armstrong '93, 

Assistant Vice President for Development for Campus Initiatives

 757-221-7647