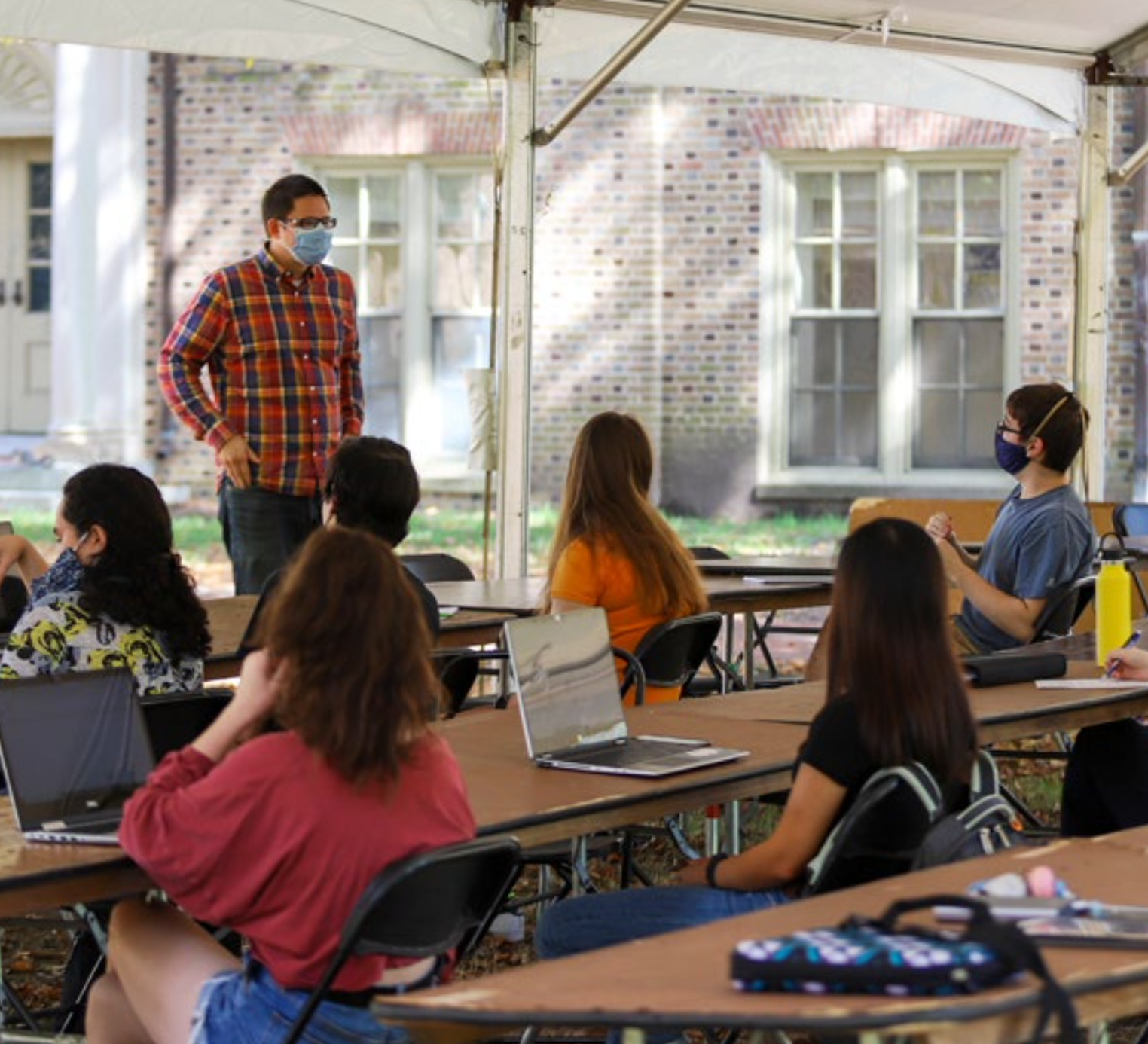 There is great power in each contribution made to the Fund for William & Mary. Gifts to the fund reach every corner of the university, providing vital resources for William & Mary to be innovative, to seize new opportunities and to provide all students an exceptional educational experience.
A Letter from the Chair of the W&M Annual Giving Board of Directors
Whenever I'm asked, "What does the Fund for William & Mary support?" my answer is simple —everything. Even amidst pandemic, it seems like nearly every corner of campus is impacted in some way by incredible philanthropy.
Many choose to support the Fund for William & Mary because it is one of the most powerful places to give. These gifts strengthen the school's ability to provide each student with an unmatched experience while also supplementing funding for scholarships, professorships and fellowships. The impact is far-reaching and multidisciplinary, supporting efforts at every level of the university. In short, these funds enable success.
Contributions to the Fund for William & Mary:
Impact every student - every cent benefits a student in some way
Drive innovation – to pioneer discovery and new ways of thinking
Fuel growth – to build and strengthen exciting new initiatives
Increase flexibility – to maintain vibrant and dynamic programs
Reach broadly – to support everything from lab equipment to scholarships
Build necessary infrastructure – for students, programs and the university's success
Meet immediate needs – to fund the most pressing necessities and opportunities
As financial challenges continue to impact the university's path forward, focus remains on supporting our community through this time. With your gift today, you can help offset pandemic-related expenses and strengthen our ability to make a difference in the lives of students, faculty and staff.
After a year filled with so much uncertainty, I am grateful that so many in the W&M community continue to distinguished themselves as true leaders in supporting the future of our great university.
I hope you'll consider making a gift to the Fund for William & Mary today. Giving to this fund is the best way to make an immediate impact — providing an essential, flexible source of support to meet the most pressing needs of our community as we navigate what comes next.
Sincerely,
Christine Mahoney Anderson '84, P '12, '15, '18
Chair, W&M Annual Giving Board of Directors
Providing Critical Resources
Donors often choose to support the Fund for William & Mary because it has the most direct impact on the university. Gifts support wide-ranging and multidisciplinary efforts at every level of the university. These critical funds allow W&M to:
Meet immediate financial needs – by enabling W&M to remain flexible in response to pressing needs while ensuring the university can invest strategically in emerging opportunities and prepare for shifting circumstances
Strengthen W&M's caliber of excellence – by empowering the university to provide an unmatched personalized educational experience while building and strengthening exciting new initiatives that enable W&M to remain competitive among peer institutions
Enable far-reaching impact – by leveraging transformative opportunities across campus to provide unparalleled academic experiences that touch every student on their path to becoming principled leaders who will change the world for the better
Your Support Makes a Difference
The Fund for William & Mary enables the university to respond quickly and nimbly to meet the university's highest needs and priorities. In the midst of a pandemic, this flexibility is more important than ever.
As a donor to the Fund for William & Mary, you can rest assured knowing that your contribution will be designated for the highest and best use based on the challenges and opportunities facing the university today. Every cent benefits a student in some way. Your gift – no matter the size – is important and will make a meaningful difference.