Sadler Center Expansion and Campus Living Center Enhancement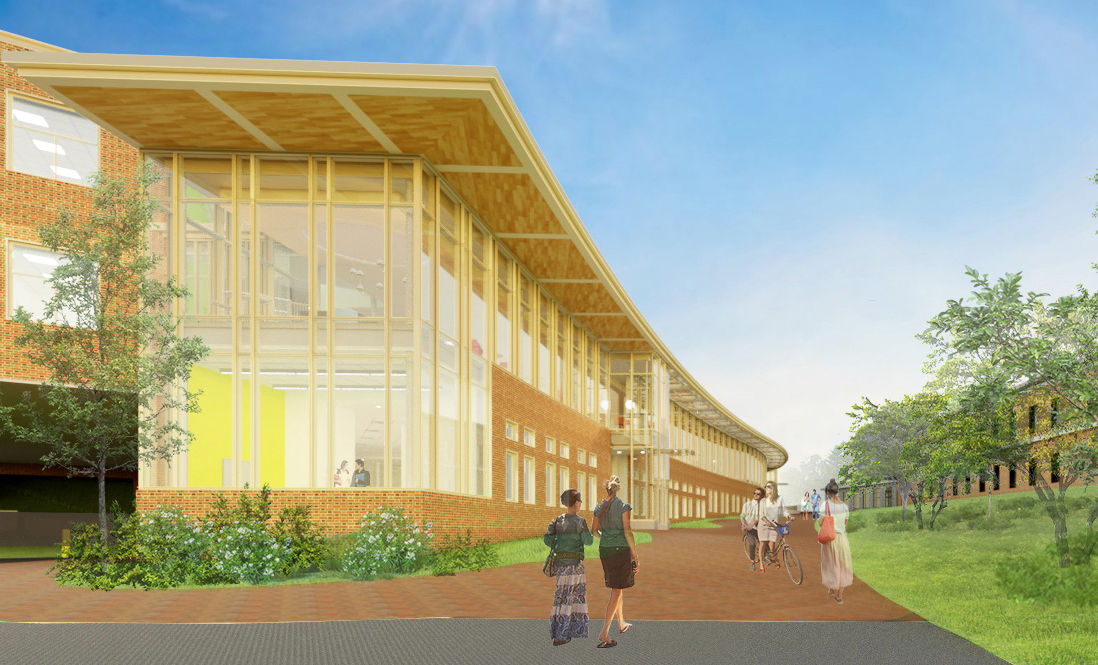 Centrally located in the heart of campus, the Sadler Center is William & Mary's student union, a vibrant hub for student life and campus activity. This is where students meet for meals; relax and study on the terrace; and learn more about our nearly 500 clubs and organizations focused on community service, sports, student government, social events, performing arts and more.
In a word, the Sadler Center is about connection.
Now, thanks to a new expansion scheduled to open in the summer of 2022, the Sadler Center and a newly renovated Campus Living Center will become home to almost a dozen Student Affairs offices previously scattered across campus. This exciting project embraces a community neighborhood approach that prioritizes student experiences and opportunities to gather, enjoy, belong and flourish.
With the Sherman and Gloria H. Cohen Career Center and McLeod Tyler Wellness Center only a few steps away, the dynamic new space brings all the resources students need together in one convenient place.


Through this remarkable expansion and renovation effort, we are affirming the centrality of student life at William & Mary. We are creating a vibrant hub of student life in the heart of campus — a place of convening, a place of belonging. Here, students will encounter one another in both planned and unplanned ways, and they will enjoy engaging spaces for meetings, social events, speakers, performances and other community gatherings. They will also have ready access to student-focused offices, services and programs.
–Vice President of Student Affairs Ginger Ambler '88, Ph.D. '06, P '24
Your Transformational Support
While institutional funds cover core construction costs, private support will provide the resources needed to expand personnel, enhance spaces and student facing programs, and ultimately enrich transformative learning and life experiences within the Sadler Center. Don't miss this opportunity to be part of creating an incredible future for student life at William & Mary.
Opportunities to name one or more beautiful new spaces are available with varying gift commitments to the Student Life Impact Fund, Sadler Center Student Affairs Endowment Fund or funds dedicated to various programs and offices.
Donors who commit $25,000 or more will also be recognized on a donor recognition wall prominently displayed in the Sadler Center.
Your partnership creates a lasting family legacy and emphasizes a message of care and community to all our students.
Exciting New Spaces
The addition and renovation of nearly 80,000 square feet of student life space will bring the Office of the Vice President of Student Affairs together with the following program offices:
Academic Enrichment/TutorZone
Care Support Services
Center for Student Diversity
Community Engagement
Community Values & Restorative Practices
Dean of Students Office
Enrollment Services
Parent & Family Programs
Residence Life
Student Accessibility Services
Student Leadership Development
Student Transition Engagement Programs
Student Unions & Engagement
Student Veteran Engagement
The Haven
Existing public spaces within the Sadler Center will be renovated to match the look and feel of the expansion, creating a cohesive space for community building. The expanded areas will also feature dynamic student spaces including a student art gallery, a meditation room, informal lounges and collaborative spaces and a student media suite for student productions and publications.
To learn more about the Sadler Center Expansion and Campus Living Center Enhancement project and to reserve a space for naming, please contact:
 Angela Bartee, 

Executive Director of Development for Scholarships & Student Affairs Philanthropy

 757-221-7879