What's our number one priority, now and evermore?
Scholarships are powerful; they change lives for the better. And they directly affect the caliber of William & Mary's student body, the quality of the academic experience and the prestige of the university. Every exceptional student admitted to William & Mary should have the opportunity to attend and to reach his or her full potential without financial burden. Consider making a gift to scholarships at William & Mary today to help ensure that the nation's most able students can benefit from the extraordinary and distinct education we provide.
Scholarships Impact Fund
Annual Report
Scholarships afford students untold opportunities that go beyond their experience in the classroom. They have the power to transform lives.
The students you'll meet in this report offer a small glimpse into the thousands of unique stories about the profound impact of scholarship support throughout the W&M community.
Unrestricted, need-based scholarships are the university's highest priority. Gifts made to the Scholarships Impact Fund provide the university with the most flexibility to ensure your investment gets put to immediate use in support of our students' most pressing needs. Thank you for making a difference in the lives of William & Mary students.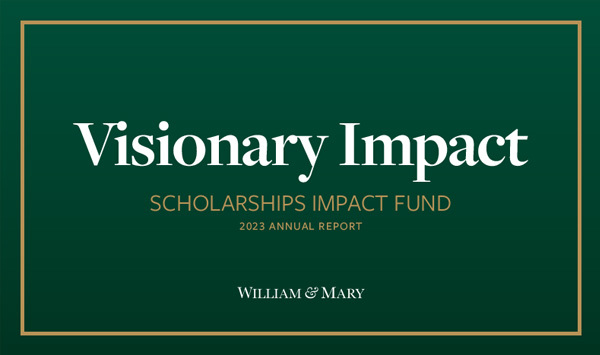 Make a difference in the lives of students
To make a difference in the lives of students immediately, please donate to the Scholarships Impact Fund today.
For more information about creating a named scholarship, see the Scholarships Naming Opportunities or contact the Office of Scholarships & Special Projects.
2023 Commencement: Kayla Beckwith '23
For further information about these and other opportunities to support scholarships, please contact:
 Angela Bartee Ed.D. '22, 

Executive Director of Development for Scholarships & Student Affairs Philanthropy

 757-221-7879