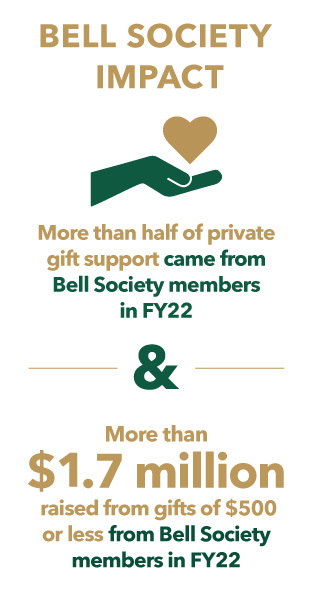 Bell Society
Loyalty, Tradition, Excellence
Bell Society members set the foundation for an incredible future.
The bold, distinctive sound of the beloved Wren Bell has called our community together for centuries. In its deep, melodic toll we find our connection to this great university and each other. This special bond is especially true for our steadfast Bell Society members.
Loyalty and tradition are at the heart of our incredible institution, and your annual support is critical to ensuring a resounding future.
Donors become Bell Society members after giving to W&M for two consecutive fiscal years. To retain membership, donors must make at least one gift, no matter the size, each fiscal year (from July 1 to June 30). A lapse in annual giving will restart the consecutive giving year count.
The diligent support of our consecutive donors keeps William & Mary at the forefront of excellence in education.
With your gift each year, you join an incredible group of loyal W&M supporters who are deeply committed to ensuring the university will thrive for generations to come.
Thank you!
Why I Give: Bell Society Stories
For additional information, contact:
  Meghan Dauler Palombo, 

Executive Director, Annual Giving

  757-221-1467